Psychological aspects of the amputation
When the physical loss is enormous, the emotional burden could be just as overwhelming.
Many people go through depression and a process of grief similar to what is experienced upon loss of a loved one.
The loss of will to live, turning in on oneself, crying are all normal reactions.
Family members and friends will also grapple with feelings of anxiety and sadness.
Do not forget that every person deals with their emotions differently and for a different period of time.
Accepting what has happened is a key element for both the physical and mental recovery.
Initially, most people who lose a limb are angry and can direct their anger and put the blame on their friends and family.
Some people focus on external issues as a means to avoid facing their own internal experiences.
You need to focus on what You still have and can do and stop thinking about what You do not have.
Such a big change could take a long time before it is accepted.
Some people quickly accept it as a challenge and go on with their lives, whilst others could go a long and difficult path before they are in a position to accept it.
Revolting against the situation could be emotionally draining and, in the end, leads to new problems instead of solving the old ones.
Physical and mental recovery could also be complicated by other accompanying health problems.
Following the amputation many people still face a serious illness and ongoing medical treatment.
If the amputation is the result of a traumatic event, there could be other harm with which You need to cope with as well. This type of problems could slow down the process of acceptance of what has happened and of the rehabilitation.
Rehabilitation and Physiotherapy
For those who have lost a limb, rehabilitation depends on the combined effort of many people.
In the ideal situation, You will be part of a team which includes members of Your family, friends, doctor, prosthetic technician and their supporting staff, physiotherapist, occupational therapist ("ergotherapist") and a psychologist.
While it is true that everything depends on Your efforts, the assessment and advice of every person of Your support team are of huge significance.
People who have recently undergone an amputation should consult a physiotherapist in the first 24 hours after the surgery.
During this early stage of recovery, the physiotherapist will help You with the posture in bed, the movement from the bed to the chair and back, with the balancing of the posture, and the use of crutches and wheelchair.
Controlling the pain is also important, with which the physiotherapist can also assist You.
The physiotherapist and the prosthetic technician will work together to teach You how to take care of the stump, in order to facilitate the healing and how to bandage it to reduce the swelling and prepare it for prosthetic fitting.
Prosthetic Centre - Post-surgical Care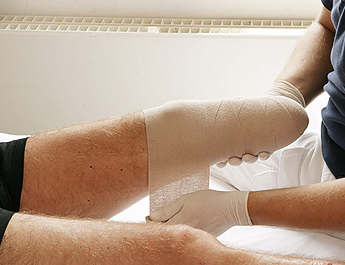 While at the hospital and after, physiotherapy will consist of dynamic exercises, which train and strengthen the residual limb.
Your physiotherapist will teach You special exercises for flexing, unflexing and toning the thigh muscles, the pelvic bones, the abdomen and knee, or the upper back, shoulder, arm and elbow.
In addition to obtaining practical tips, work with a physiotherapist right after the amputation will give You a huge psychological advantage.
Putting the immediate focus on what You can do, and the setting of goals could be much more useful than spending days or weeks after the immobilisation ruminating on Your loss.
Unfortunately, people are often too emotional and fail to grasp the importance of starting therapy immediately and the possibility to do this escapes them.
Download Guidance for bandage of the stump

Movement after the Amputation
During the preparatory stage, one of the greatest concerns for people with amputated lower limbs is how to be mobile. One option is to move with a wheelchair, but many people prefer using crutches.
If one has recuperated to the point where he/she is able to get up from the wheelchair, crutches are a better choice since movement, exercise and keeping shape help people recover faster.
Even when using prostheses, it is handy to have available a pair of crutches to use when the prostheses are not used, for example when getting out of bed in the morning and in the evening, before going to bed.
It could sound a little alarming for people with recent amputations but when they relax at home, some people find it easier to move by crawling.
An exercise that we do not recommend is jumping on the healthy leg. This risks leading You to fall and seriously injure Yourself; jumping also strains the back very much as well as the joins of the healthy leg.